Custom Manufacturer of Short-Run Metal Stampings
100% Made in the USA
50 Years in Business
Contact Us
SMALL QUANTITIES NJ, INC
SMALL QUANTITIES NJ, INC supplies custom short-run metal stampings, low-volume metal fabrication, and high-quality, cost-effective laser cutting to companies and businesses in most industries. SQNJI will provide the customer with total support throughout the process, starting with the initial quotation request all the way through the shipments of the product.
When choosing a metal stamping supplier, consideration should be made of critical components. On-time delivery, quality, and cost of the product are vital to our customer's success. With over 50 years of manufacturing experience, SQNJI has the expertise, knowledge, and ability to take on all types of custom metal stamping, metal fabrication, and laser cutting. Contact SQNJI today for your short-run metal stamping, low-volume metal fabrication, and laser cutting needs. You'll be glad you did!
Short-Run, Laser Cut, & Production Quantity Metal Stampings
SMALL QUANTITIES NJ, INC utilizes many different manufacturing methods to manufacture products for our customers. For our short-run stampings, we utilize equipment such as lasers, turrets, and press brakes but also can provide tooling that can be run in presses which can lead to lower piece prices depending on the volume. With over 50 years of manufacturing experience, we strive to find the right manufacturing process to meet our customer's requirements.
Laser cutting with our CNC lasers will be utilized for both low- and high-volumes, depending upon the type of part that needs to be produced. Cost-effective and extremely accurate, our laser cutting is ideal for all volume levels depending on the part type. Larger, flat parts are ideally suited for this process and can run into high-volume quantities.
SQNJI can also build tooling and run full production quantities on our presses. We have the ability to take you from concept to low volume all the way through the production life of your part. While other companies may claim to be able to run quantities from low volume through production, SQNJI has been doing this for over 50 years!
Value-Added Operations
At SMALL QUANTITIES NJ, INC, we understand the need to offer services for our customers that will provide a finished part that is both complete in detail and aesthetically pleasing. To this extent, SQNJI offers Value-Added Operations for our customers. Whether SQNJI performs these operations in-house or utilizes our relationships that have been built over decades of manufacturing with our outside vendors, SQNJI can offer our customers the service and operations they need. Below is a list of Value-Added Secondary Operations that SQNJI can offer to its customers:
Deburring
Tapping
Drilling
Reaming
Spot Welding
TIG Welding
Machining
Countersinking
Plating
Riveting
Sanding
Painting
Silk Screening
Heat Treating
Standoffs
Pem Nuts
Polishing
Part Marking
Passivation
Powder Coating
Assembly
Industries Serviced
With over 50 years of manufacturing experience, SMALL QUANTITIES NJ, INC has manufactured parts for companies in virtually every industry. Below is a list of the industry's most frequently serviced by SQNJI: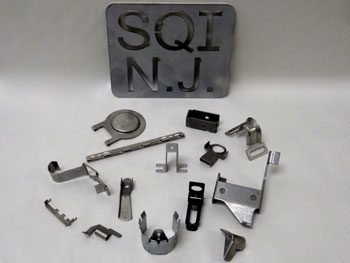 Electrical
Controls
Telecommunications
Computer/Electronics
Test & Measurement
Medical
Inter-Connect
Fiber Optic
Aerospace
Automotive
SQNJI prides itself in being able to manufacture products that are used around the globe in all industries, made with quality and pride in the United States.
Materials Used & Tolerances
SMALL QUANTITIES NJ, INC prides itself on using the latest technology and materials to produce the highest quality parts at the most economical pricing.
Materials
Stainless Steel 301-304 Series (¼, ½, & Full-Hard in Thickness. Various Thickness Ranges Based on Material Callout and Part Type.)
Brass & Copper Alloys (.005-.187 in Thickness)
Aluminum
Cold & Hot Rolled Steel
Galvanized & Electrolytic Zinc Steels
SMALL QUANTITIES NJ, INC has flexibility with material thickness based on material type and part configuration.
Tolerances
Small Quantities NJ, Inc. utilizes standard tolerances in our manufacturing process as outlined below:
(2) Decimal Places +/- .010
(3) Decimal Places +/- .005
Tighter tolerances may be held at the customer's request if SQNJI agrees after validation of part configuration and material type used.